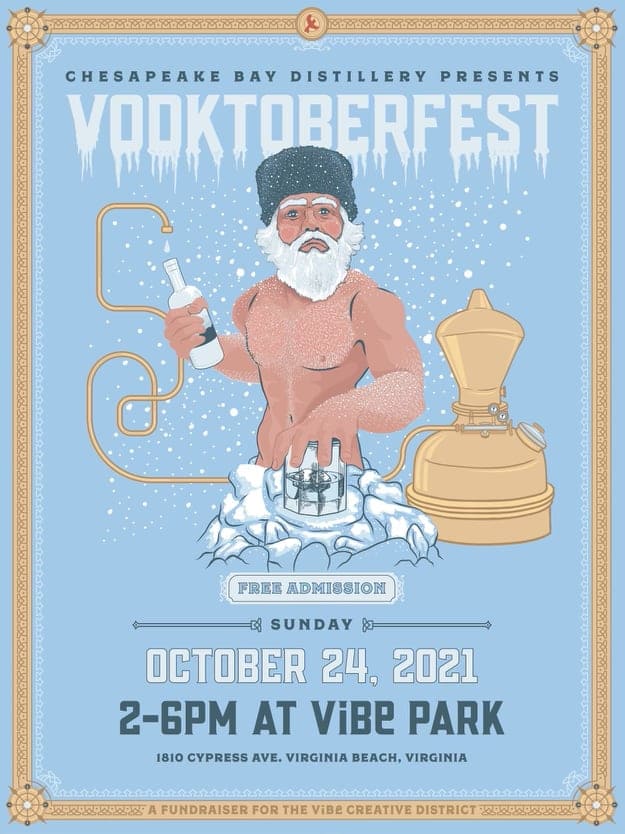 VODKTOBERFEST presented by Chesapeake Bay Distillery

VODKTOBERFEST
An most unusual fall fundraiser for the ViBe Creative District presented by Chesapeake Bay Distillery!
Sunday, October 24
2-6pm
ViBe Park at the corner of 18th Street and Cypress Avenue
It is time to celebrate Vodktoberfest (think Octoberfest, but with Vodka) – Chesapeake Bay Distillery style.
Shenanigans include:
– the Deloreons AND BJ Griffin
– ice luge and chilled vodka shots
– cocktails in commerative cups AND snow-cone cocktails
– seating area with SNOW
– tshirts custom-printed on site
– artisans of handcrafted wares
– food truck yumminess
– 80s ski-gear-clad awsomeness
*family friendly
*suggested $5 donation to support the ViBe Creative District
Event graphic references King Neptune Statue: Neptune Virginia Beach © 2005 by P. DiPasquale, Sculptor.
POP-UP VENDORS WANTED! APPLY NOW:
REQUIRED CITY OF VB VENDOR FORM: 
VODKTORERFEST - Vendor Pop Up Form